World Cup Customer Service Fever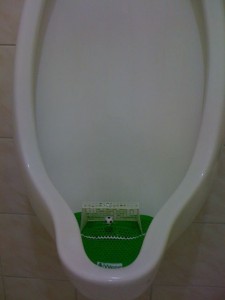 World up fever has gone up a notch in Australia. I went to the loo today and scored a goal. A little bit of toilet humor never hurt anybody. Thank God for a bit of fun in the workplace. It's good to laugh!
But where did this little novelty come from?
It came from a cleaner who sneaks in at night time, while we all get our rest. We arrive at work the next day and find a thoughtful, funny little gift that entertains the primal brains of men every time we take a leak.
It's the little things that makes you remembered by your customers and clients. Customer service requires thought. It requires doing something unexpected that people will remember you by.
It may not be the most normal thing to think of your cleaner every time you go No.1's – but then again, if you're a cleaner, it's probably the ultimate marketing – in fact, it's genius!!!
Every industry can find creative outlets to express customer service.
Go Cleaners of this world and Go Aussies!!!
https://www.scottgroves.com/wp-content/uploads/scottgroves-new-logo300px.png
0
0
Scott Groves
https://www.scottgroves.com/wp-content/uploads/scottgroves-new-logo300px.png
Scott Groves
2010-06-17 21:54:40
2013-02-24 10:39:23
World Cup Customer Service Fever